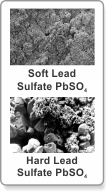 Mechanical failure in lead acid batteries causes fractures of the electrical conductivity pathway in the battery. Grid plate degradation (corrosion), broken connectors between cells and plates, terminal post deformation, shedding of the pastes (Pb & PbO2), and burnt cells are considered mechanical failures.

However, the high failure of lead acid batteries is acknowledged as an occurrence of hardening of the soft lead sulfates (sulfation or PbSO4). This hardening or passivation of the lead sulfate is estimated to be the cause for failure for seven out of every 10 batteries. Mechanical problems cause failure in three out of every 10 batteries. These statistics come from Battery Council International, the organization that represents battery manufacturers in the United States.
Our years of experience in the field of lead acid battery reconditioning suggest that in order to recover the lost potentials of any failed lead acid battery one needs access to a battery power recovery technology that is reliable, efficient and effective. We have accomplished this by developing a technology that is grounded in the science of electro-chemistry.

From a chemical point of view we have developed a solution that recovers the lost potentials of any lead acid battery due to sulfation buildup. This chemical reaction can be understood in two parts. The first part of our chemical process is to dismantle the hard lead sulfate crystals (PbSO4 or sulfation buildup) as the battery gets re-polarize (charged). The second part of our chemical process is to allow re-assembly of the lead sulfate particle in a molecular structure that will not harden again. This occurs during discharging of the battery as it is under a load or discharge.

We also use electricity to accompany our chemical process of desulfation. Our special battery conditioners are built to help dismantle the hard lead sulfates. All our special battery conditioners are made to be easy to use, to handle more than one battery at the time, to manage different types of batteries (flooded, Gel, AGM, VRLA), and to yield results.

From a business point of view, our solution offers any person the opportunity to save money and to make money. If you are a business owner with a high expenditure in batteries you can gain instant savings by restoring the lost potentials of your weak batteries or by preventing sulfation buildup. If you are someone that would like to venture into the battery market our technology solution for battery regeneration will empower you to develop a business grounded in real technology that works. To learn more about how you can own our solution please contact.

In summary, our product solves the problem of recovery of the three potentials of any lead acid battery that is depolarized (spent). These potentials are: nominal voltage, amperage, and specific gravity. Nominal voltage refers to the total voltage of a good battery. Amperage potential refers to the amount of energy accumulated in the battery as cranking amperage (automotive batteries) and store amperage (deep cycle batteries). Specific gravity refers to the quantity of sulfuric acid present in the electrolyte when the battery is fully charged.
Click below to read more.
Our battery recovery technology is named "Genesis Battery Power Recovery Process". This process follows scientific understanding of the electrochemical functioning of a lead acid battery. It is also based on our theory of the causes of passivation in a battery. At the core of this theory is our understanding that to dismantle hard lead sulfates crystals (sulfation or PbSO4) one has to create an electro-chemical fracturing process that recovers the potentials of the battery at the molecular level where the lead sulfates formed. The Genesis recovery process is our methodology based on a procedure of four steps. In order to use it we had to develop technology along two dimensions: electronically and chemically. Electronically we developed the XCharger and the Genesis; chemically we developed our battery desulfating compounds, PowerPlus Automotive and PowerPlus Industrial, both environmentally friendly agents. We also had to develop testing procedures that yields reliability, ease of use, quickness, and quality of reconditioning outcome. Click here BSI Technology.
Click below to read more.

Our power recovery technology for secondary batteries is founded on a procedure that we called the Genesis Battery Power Recovery Process.  This methodology was designed to follow strict scientific principles of electrochemistry of lead acid batteries. The overall purpose of the methodology is to recover the lost potentials of any lead acid battery in any state of health, including those considered to be scrap, or spent, and out of service in any state of charge. Batteries can be flooded or sealed, AGM, Gel, and VRLA of any brand, size, voltage, amperage, and any manufacturing age. The main characteristic required for success is that the batteries be mechanically intact inside.
This Genesis method includes the following four steps:
• Screening― identification of the battery mechanical's integrity  
• Regen― reactivation of passive electrochemical energy
• Recovery― renewal of lost potentials of the battery similar to when new
• Branding― quality control where full amp-hour capacity is tested
The Genesis process requires the use of the XCharger or the Genesis and our battery desulfating additive PowerPlus. The XCharger is for batteries of 6, 8 and 12 volts both cranking and deep cycle. The Genesis is for industrial batteries used on forklifts and electric pallet jacks of any voltage and amperage.  Please learn more about this by downloading literature we have in the Downloads section of this website. There, you can read "BSI Technology", and "Why Lead Acid Batteries Die" to learn more about this.
To use our technology it is not necessary to break apart a battery to recover its lost potentials. The main feature of our process is that it can be used for maintenance, prevention, trouble shooting, and recovery of the lost potentials of batteries performing below rated capacity and with those considered scrap or out of service.
Our solution to enhance and extends service life and performance of lead acid batteries can be used in all types of applications where lead acid batteries are the preferred source of power. Industries such as telecommunications, logistics, transportation, manufacturing, power regeneration, and mining are samples of sectors that will benefit greatly acquiring our products and services to improve lead acid batteries.